February 14, 2022
Press Contacts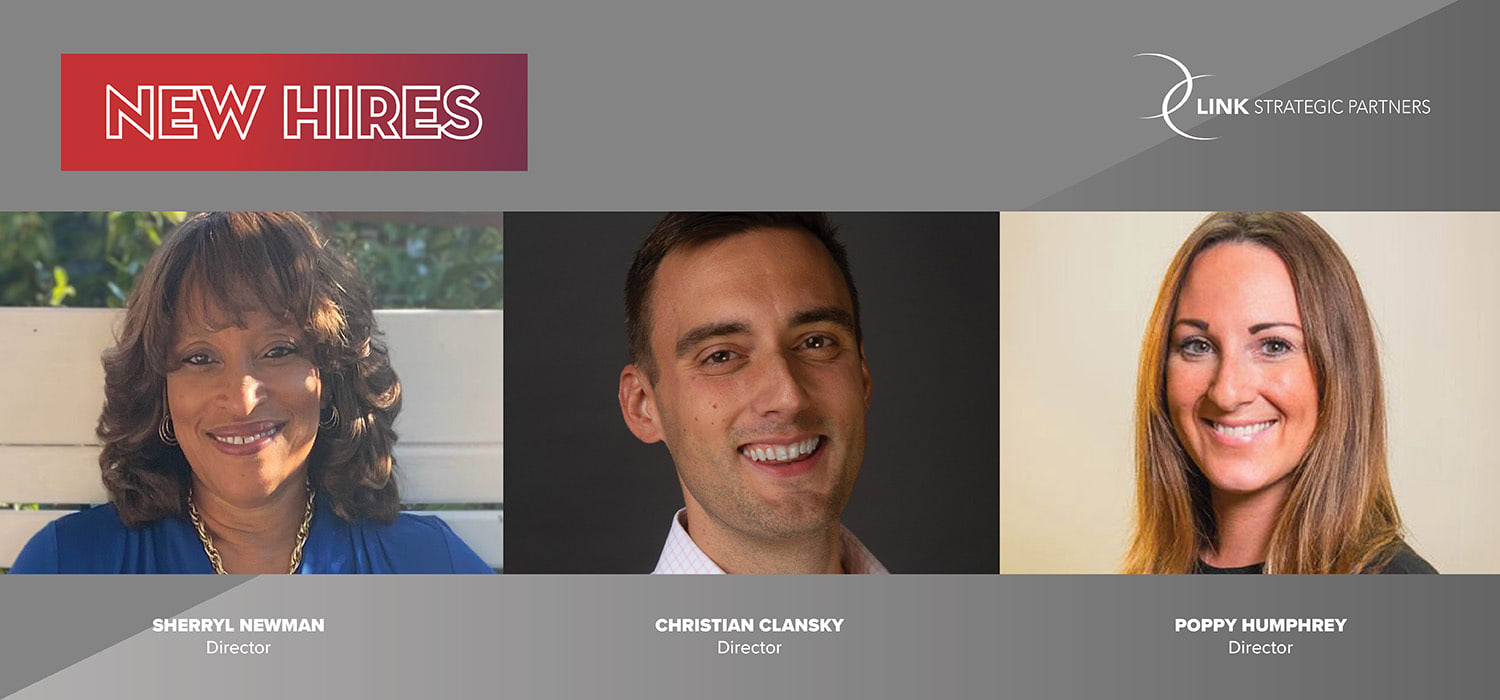 WASHINGTON —
LINK Strategic Partners (LINK), a social impact-focused communications and community engagement firm, is excited to announce the appointment of three new Directors to the firm. Sherryl Newman, Christian Clansky, and Poppy Humphrey joined LINK in January 2022, as Directors of Community Engagement, to provide strategic vision and oversee a range of projects across a variety of sectors and communities.
With a combined professional experience of more than eight decades and spanning geographical boundaries, the arrival of these powerful and dynamic change agents will complement and strengthen LINK's already diverse pool of expertise and skillsets. Their arrival will provide a blueprint for expanding LINK's core belief that doing good and doing well are not mutually exclusive—utilizing local knowledge while benefiting from global insight.
Sherryl Newman joins LINK after an impressive 35-year career performing executive leadership roles in strategic planning and transformational change across both public and private sector organizations. Newman's proven success in delivering innovative strategies for city services in New York and Washington, D.C. reflects a legacy of achievements, including the development of industry-leading practices in customer service systems and operations, bringing to LINK an intrinsic understanding of planned organizational change. Newman's previous accolades include transforming public services into national award-winning organizations and serving as Secretary of State for the District of Columbia. She will provide a valuable perspective to LINK as a leader in providing strategic visioning, community engagement, and organizational development expertise to municipalities, at both a national and global level.
Christian Clansky brings over 15 years of experience forging relationships among local and national nonprofits, foundations, corporate partners, community leaders, and social enterprises. Clansky's solid track record and extensive expertise in strategic planning, community building, digital and web development, and creative strategy have been delivered across a wide range of industries. Clansky joins LINK after serving as Director of Marketing and Digital Strategy for Independent Sector, where he explored new approaches to audience engagement, amplified stories of high impact social innovation, and oriented a dynamic national network of changemakers towards equitable outcomes for under resourced and underrepresented communities. Christian's collaborative approach has driven success across a variety of senior leadership roles, notably as co-architect of Upswell—a boldly imaginative, high-energy, high-impact community of driven leaders who aim to do nothing less than realize the fullest potential of the social sector. He will support LINK in strengthening community partnerships, connecting the right people to change the world for the better, and designing human-centered strategies for transforming big ideas into lasting impact.
The most recent addition to the LINK leadership team is Poppy Humphrey, who, over the course of a stellar 20-year career has developed strategic partnership frameworks and shaped national policy across numerous organizational settings including higher education, subsidized housing, and local government. Humphrey joins LINK's expanding UK branch office from her role overseeing off-campus services to over 100,000 students on behalf of a consortium of higher education institutions in Manchester, UK. As the only UK-based certified practitioner in Town-Gown relations, Humphrey's experience and insight into global trends in this arena are unparalleled. Humphrey previously held board roles for the Association of Student Residential Accommodation and the UK Town and Gown Association, which she co-founded in 2014. Her tireless commitment to driving up standards across the education sector is reflected by achievements in the development of nationally recognized multi-agency strategy formation. Humphrey's appointment will enable LINK to further optimize its global platform, including expansion in the UK and Europe.
These appointments are the culmination of a robust global search for both national and global leadership talent across a range of sectors in which LINK operates. The announcements propel LINK into the new year and build on a series of recent achievements, most recently being named to the Inc. 2021 Best In Business List. The timing of this announcement also marks the start of a significant year for LINK as the organization celebrates ten years of leadership as a social impact consulting firm. Building upon a decade of providing extensive mission-driven expertise, the firm continues to accelerate and expand its work to support the specific needs of the many communities and client partners they serve.
"We are delighted to welcome Sherryl, Christian, and Poppy to the team," said Michael Akin, LINK President. "LINK's people are what make us great. The combination of hyperlocal and international insight they bring continue to put LINK at the forefront of community-based, global work. We recognize that the world is ever-changing, intrinsically connected, and complex. These new members of the LINK family will continue to strengthen our partnerships and expand our scope for delivering social impact work."
For more information about LINK Strategic Partners, visit our website, www.linksp.com. Follow the team and learn about their community-based work on Facebook, Twitter, Instagram, and LinkedIn.
###
About
About LINK Strategic Partners
LINK Strategic Partners is a strategic communications, stakeholder engagement, and social impact consulting firm proudly based in Washington, D.C. In the past 10 years, LINK has expanded from a small local shop to a dynamic firm with hundreds of local, regional, national, and international clients. Our world-class and diverse team of professionals ranges from 17 to 94 years of age and lead our offices in D.C., Phoenix, St. Louis, New York, and Manchester, England. Over 65% of Team LINK identifies as women, and nearly 70% are people of color, reflecting LINK's foundational commitment to be "in and of" the communities we serve. LINK's mission-driven work includes thousands of hours of pro and low bono work with community partners. Visit www.linksp.com.